The 3 Valleys, the world's largest ski area!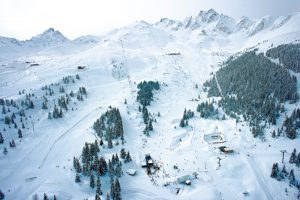 And guarantee "Largest number of open connected runs in Europe for the whole season"!
Thanks to the nature of the domain and the numerous placement of snow canons (2189 snow canons covering 49% of the ski area), the 3 valleys area is able to guarantee snow cover on its ski area which is also maintained by 73 grooming machines each night.
The 3 valley pistes are situated between 1100m and 3230m of altitude and 85% of the skiable area is above 1800m. The capacity of snowmaking as well as the high altitude and topography of the whole ski area and the connexions between the valleys (Always above 2000 m of altitude) guarantee snow throughout the winter.